Nov 2005 - Starlite Printers (Far East) Pte Ltd has been awarded AsiaStar 2005 for the Tiger Beer 7-can promotion Box. (more)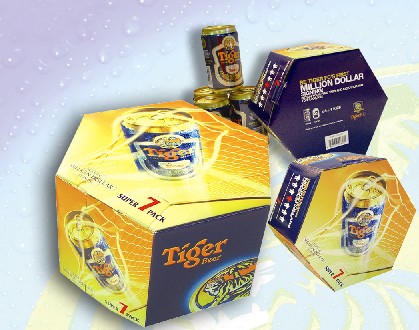 Singapore, 28 November 2005 - Starlite Printers (Far East) Pte Ltd was awarded the AsiaStar 2005 under the commercial entry - consumer package for the Tiger 7-can Promotion Box.
Asia Star 2005 is organized by the Asian Packaging Federation, which consists of 14 country members namely, Australia, Bangladesh, China, India, Indonesia, Japan, Korea, Malaysia, Philippines, Russia, Singapore, Sri Lanka, Thailand and Vietnam.
The 7-can promotion box may be placed flat or standing allowing for interesting display at point of purchase as all its surfaces can be used for printing marketing messages. The hexagonal shape adopted gives the box resemblance to a soccer ball, which is inline with the promotion theme of Tiger Beer.
This product is made with 270gsm duplex board and laminated with 26k E-flute corrugated board. The box is of 4-colour printing and is coated with water-based varnish, which is environmental friendly. The box packs 7 cans snugly and can be stacked facilitating warehousing and logistics movement.